At Activate Learning, we're proud to be a diverse community.
This month we're celebrating Pride, which annually marks the contribution of the LGBTQIA+ community to the world – and indeed to Activate Learning. You may have noticed our logo has been given a small makeover to reflect the rainbow colours!
We take pride in the diversity and inclusivity of our students, staff and local communities and we strive to be even better.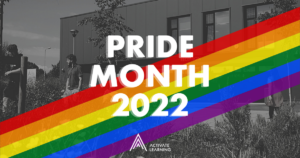 Support for LGBTQIA+ students
Activate Learning offer dedicated individual and group support for LGBTQIA+ students at our colleges. We work closely with community networks and clubs to offer as extensive support as possible.
Regardless of age, Student Support can support you with referrals and engagement to other services in the community.
We are looking into facilitating LGBTQIA+ clubs and groups at each of our campuses to start in September 2021.  Anyone that identifies in the LGBTQIA+ community or as an ally will be welcome to come along. The society will meet to offer support, fundraise for charities and events, and organise events for the community in college. The society is completely student-led so we need your input! If you are interested in coming along to a meeting or joining the society then email charlotte.morgan@activatelearning.ac.uk or speak to your local Student Support team on campus.
Throughout the academic year, the Student Support team celebrate the LGBTQIA+ community with a range of external and internal events. We continue to train and upskill our Student Support staff to better support the diverse students at our colleges.
Who can I speak to outside of college? 
Activate Learning work alongside numerous charities in the UK that support our LGBTQIA+ students. These include:
Switchboard offer a safe space for anyone to discuss anything, including sexuality, gender identity, sexual health and emotional wellbeing. Visit their website or download for an emotional wellbeing pack to discover tips and advice if you are feeling isolated and lonely.
Mermaids supports transgender, non-binary and gender-diverse children and young people until their 20th birthday, as well as their families and professionals involved in their care. Mermaids offers web chat support to students up to the age of 25, a wide range of events and recruitment of volunteers.
Check out local support groups near you:
Berkshire 
Oxfordshire
Surrey 
What can I do to better understand the needs of the LGBTQIA+ community? 
If you're looking to better understand the LGBTQIA+ community, there's plenty of free resources to learn more including podcasts, films, TV shows, influencers and pioneers. You could also attend a Pride celebration in your local area or online.
What podcasts can I listen to? 
A Gay and a Non-Gay is one of the UK's top LGBTQIA+ podcast, which "challenges many of our differences head on and promises that no matter who you are, or what you're into, love is love and gay and nongays can be friends."
Two Twos speaks their "truth whilst creating a safe space for people like themselves and bridging the gap between LGBT+ people and Cisgendered straight people."
Queery with Cameron Esposito explores "individual stories of identity, personality and the shifting cultural matrix around gender, sexuality and civil rights."
The Log Books – explores previous calls received by LGBTQ+ charity, Switchboard, learning about queer history and the different issues that have been faced throughout time.
History is Gay looks at the "overlooked queer ladies, gents and gentle-enbies that have always been there in the unexplored corners of history."
What films and TV shows can I watch? 
It's a Sin
Schitt's Creek
Gentleman Jack
Love Simon
Call Me By Your Name
Feel Good
Paris is Burning
The Death and Life of Marsha P. Johnson
RuPaul's Drag race
Pose
Queer Eye
Grace and Frankie
The L Word: Generation Q
Rocket Man
Bohemian Rhapsody
Influencers and pioneers of  the LGBTQIA+ community  
Nigel Owens is a Welsh international rugby union referee. He is the current world record holder for most test matches refereed and one of four professional referees at the Welsh Rugby Union. After a failed attempt to kill himself, it took guts for Nigel Owens to come out in the rough, tough world of rugby. This video addresses some of his experiences surrounding his sexuality and the impact they have had on his personal and sporting life.
Elliot Page is a Canadian actor and producer. He first became known for his role in the film and television series Pit Pony (1997–2000), for which he was nominated for a Young Artist Award, and for recurring roles in Trailer Park Boys (2002) and ReGenesis (2004) and Umbrella Academy (2019). Elliot has recently revealed how much happier he feels after having top surgery and described transitioning as "life-saving" during an emotional interview with Oprah Winfrey.
Lady Phyll is a strong, passionate and resilient leader in the LGBT community. Lady Phyll is an incredible force of nature who has been a much-needed voice for the black LGBT community. In an interview with The Guardian, Lady Phyll states that "we should not be debating trans people's lives" – read the full interview. Lady Phyll talks about the importance of Black Pride in the UK.
Miley Cyrus hasn't shied away from expressing her sexuality through her performances – sometimes to scandalous effect. It wasn't until 2015 that Cyrus announced that she was gender-fluid, meaning she doesn't exclusively identify with one particular gender. Miley is now a passionate and vocal advocate for various LGBTQIA+ issues.
Jameela Jamil is a British actress known for her role in the comedy, The Good Place alongside Ted Danson and Kristen Bell. Jamil came out as queer in February 2020, which was met with a considerable amount of backlash, seeing as she had been in a five-year relationship with musician James Blake. She told The Guardian that she had not come out before, "because I was worried that people would think I was jumping on a trendy bandwagon. So I understand the pushback."