In celebration of Colleges Week 2022 we're demonstrating some of the Staff, Students and Skills that make Banbury and Bicester College such a wonderful place to learn, work and develop.
Here are some examples from our wonderful students and staff at the college: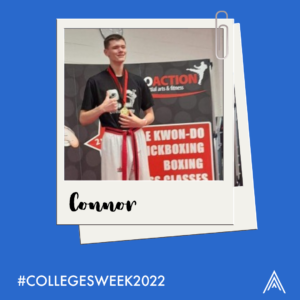 Connor Southfield – Level 2 Animal Management Student
Connor is a Level 2 Animal Management student who recently progressed from Level 1.
As well as being an active part of the animal welfare student body, Connor competes in Taekwondo outside of college for Proaction Martial Arts and Fitness. 
He has competed on a national stage and has been extremely successful. Connor has won four gold medals, six silver medals, and eight bronze medals.
He was also awarded the student of the year out of over 1,000 students and is aiming to achieve his black belt next weekend.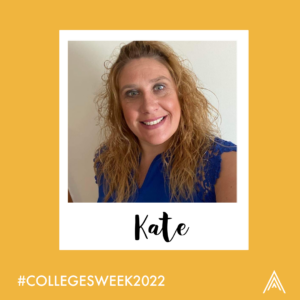 Kate Johnson, LLD/D Teacher
Kate is an LLD/D teacher at Banbury and Bicester College and programme owner for Tier 2 and Tier 3.
She has worked for Activate Learning for almost two years.
Kate has been in education, in one form or another, for the past 11 years. She has worked in preschool, primary, secondary, and post-16 and owned an outdoor learning company. Kate has a real passion for SEND education.
Since starting at the college, Kate has taught maths, PSD, wellness, project-based learning, cooking and digital to students on the supported learning pathways. She always tries to make lessons fun and engaging.
Kate has also put an emphasis on mental health and extracurricular activities. She has introduced music, forest school and sport into the timetable. In addition, Kate has set up singing, dance and walk for wellness lunch clubs, all of which are open to students and staff.
Kate could never see herself not teaching LLD/D as she is so passionate about helping learners reach their full potential. She provides them with the skills to become confident, independent, and as she puts it, "totally awesome individuals."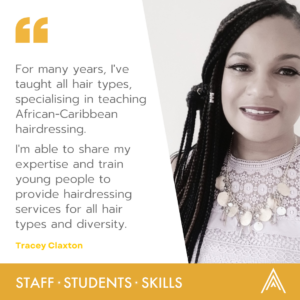 Tracey Claxton, Hairdressing Teacher
Tracey recently joined Activate Learning in Banbury and Bicester College teaching hairdressing.
Tracey has many years' experiences within the hairdressing industry, 25+ years plus alongside experience working within the education sector.
Tacey started her hairdressing training at 16, working as a Saturday girl sweeping hair and making coffees. She then went onto studying hair and cosmetic make-up at college.
When she became a first-time mum, Tracey continued studying her Level 3 Hairdressing programme.
This led to her doing voluntary work at Northampton College and achieving an Assessor Award, PTLLS Teachers' Certification and DTLLs Diploma at the University of Northampton.
Her Diploma included specialist training in Afro Caribbean hairdressing and media make-up for women of colour at Pinewood Studio.
Tracey also enjoys attending workshops to keep her skills up to date. She has been trained by celebrity stylists and has attended a costume essential workshop by designer Jenny Beavan.
Tracey said: "Teaching hairdressing has always been exceptionally rewarding, and a gift to be able to pass on my skills to young people who are keen to learn all hair types.
"For many years I have taught all hair types to my learners, including specialising in teaching African-Caribbean hairdressing in colleges.  Where I am able to share my expertise and train young people to provide hairdressing services for customers of all hair types and diversity.
"What I enjoy about teaching hairdressing is to see my learner's grow in confidence, to see their hairdressing skills develop and move onto working in salons or go onto university."

Steph Silver – Level 3 Hairdressing
student
"As a mother of three children, the return to education as an adult learner was a big decision that would affect my whole family. This sparked a lot of anxiety in me; however, it is a decision I have not regretted.
"After successfully passing my Level 2 programme in Women's Hairdressing last year I am now working on my Level 3 and hope to qualify in June 2023.  
"Whilst studying my Level 2, I also decided to retake my English GCSE. I was very happy to pass in July this year. I am part of the Student Rep team and enjoy helping fellow students have their say on things that are important to them.  
"The team at the college are very supportive and I really enjoy attending Banbury and Bicester College."

Zainab Al Refai – ESOL student
"I am Zainab, I came from Syria as a refugee in 2017, a single mother with five children, the oldest of whom was 15 years old and the youngest was 5 years old, whilst knowing no one here.
"My English was zero. I received support from several parties here, and one of my supporters was the college through the services it provides to students. My teachers also understood the difficulties I face and because of their kindness and the support of the college, I was able to reach the first level in English and in mathematics.
"Teachers are very kind and patient and because of this support, I wanted to complete goals that I would not have been able to complete if I were elsewhere. I wish everyone to find a chance at a better life and that every person achieves what they aspire to."
"Thank you from my heart."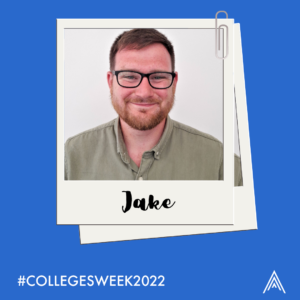 Jake Stevens-Minns, Learning Environments Officer
Jake is the Junior Learning Environments Officer in the Banbury and Bicester College Learning Environment. He's based at the main LE desk throughout the week. Jake is the student's first point of contact for all library services. This includes catalogue loans, computer bookings and LE support.
Jake has a background in performing arts and is passionate about literature, multimedia, film, television, theatre and environmentalism.
He finds working in Further Education to be an incredibly enriching opportunity. Jake enjoys supporting students in pursuing their educational aspirations, by helping them to locate and effectively utilise resources to benefit their studies and development.
Jake has been working at the college for two months and absolutely loves working in Activate Learning's positive, passionate and supportive environment, whose unique ethos and attitude make Activate Learning one of the very best places to work and study.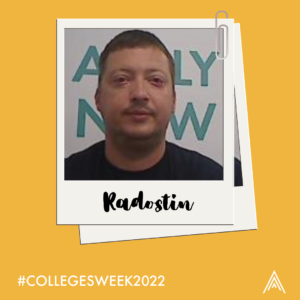 Radostin Kolev, ESOL student
Radostin has been in the UK since 2014. He has been studying at Banbury and Bicester College since 2021, with no prior English except at school.
Radostin came from Bulgaria where he studied journalism at university, spending some time presenting a children's show. He has travelled widely and is particularly interested in media.
He currently works in a warehouse, but he has told us that English lessons have "given him his spark back". This shows in his progress as Radostin was fast-tracked from Entry 3 to Level 2 in a year which is very unusual.
We wish him good luck in following his dreams and we enjoy continuing to support him on his journey.

Emily Frew – Level 4 Performance and Production Arts
student
Emily has progressed from Level 3 to Level 4 and had been a fantastic asset to the college.
She says studying at college has been one of the most important stages of her life. It's where she has met some great people and has gained skills and experiences that will help her in the future!
She has felt incredibly supported by staff and fellow students on her course and around the campus. Emily loves the confidence college has given her and she feels really positive about her achievements. She is very excited to see where her Level 4 studies can take her!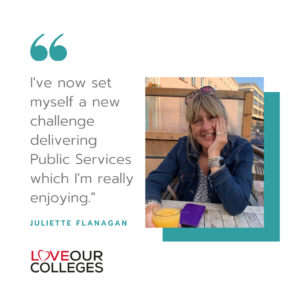 Juliette Flanagan, GCSE Maths Teacher
"I'm Jules and I've been working at the college for the last six years. I joined Activate Learning after many years of teaching Primary Education in the local area.
"Many students who I used to teach in primary school come through the doors at college. They always seem happy to recognise a friendly face.
"Over the years I have taught Maths and English to younger students, as well as adult learners.
"I have now set myself a new challenge and become a Study Programme Owner delivering Public Services which I am really enjoying."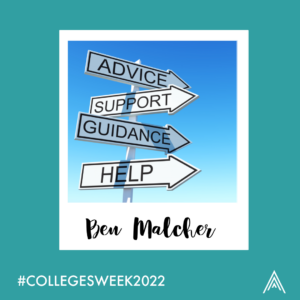 Ben Malcher, Student Liaison Adviser
As a Student Liaison Adviser, Ben works to help ensure a safe, secure and welcoming environment for staff, students and campus visitors by ensuring visible support and inspiring our students.  
A former Banbury and Bicester College art student, Ben completed a HND in Graphic Design in the late 1990s. He worked as a Creative Artworker in the creative industry for 20+ years.  
Ben has a passion for Amateur Boxing. In 2012, he co-founded Banbury Boxing Club. Ben has been working and volunteering in the youth sector for the last 15 years. He has recently launched a boxing session at Banbury and Bicester College. This provides students with an opportunity to access a free recreational sport, meet new people and let off steam. 
Ben particularly enjoys liaising with internal and external support services, identifying students with additional support needs and helping them to remain on their programmes, achieve and progress. 
It's fair to say we certainly have some impressive students, staff and skills at Banbury and Bicester College!
Here are some more student stories from Banbury and Bicester College.
If you'd like to join us in celebrating Colleges Week 2022, join the conversation using #CollegesWeek on the Activate Learning social media channels.