Banbury and Bicester College has received a charitable grant of £2,500 from Banbury Charities to contribute towards a Breakfast Club at the college on Broughton Road, that provides free breakfast to all students.
The launch of the Breakfast Club is part of Activate Learning's ongoing commitment to support students and their families during the cost of living crisis and investing in their wellbeing to help them achieve their full potential.
Cheri Ashby, Deputy CEO at Activate Learning, expressed her gratitude to Banbury Charities for their generous donation, saying: "We would like to extend our sincerest thanks to Banbury Charities for their contribution, and for helping us provide free breakfasts to students at Banbury and Bicester College.
"We know that the cost of living can be a major barrier to education, and providing free breakfasts to our students is just one way that we can help to alleviate some of the financial burdens they face.
"The breakfast club will ensure every student at our college will have access to a nutritious breakfast every day, which is vital to their physical and mental wellbeing and can also help them perform better in their studies.
"We are very grateful to Banbury Charities for their kind donation and are honoured to partner with them to deliver such an important initiative that will help many in our college community."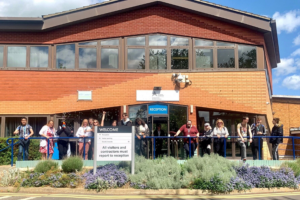 The club runs Monday-Friday during term time and is available to all students at college cafeteria between 8.15am and 9am.
Similar clubs are run at Activate Learning's other campuses in Oxfordshire, Berkshire and Surrey.
Colin Clarke, Chairman of Trustees at Banbury Charities said: "At Banbury Charities, we are committed to supporting initiatives that make a positive difference in the lives of individuals and communities in Banbury.
"We are delighted to support Banbury and Bicester College's free Breakfast Club initiative, which we believe will have a profound impact on the lives of its students.
"We strongly believe in the importance of equal access to education, and we are proud to be part of this project, which will help to ensure that every student at the college has the opportunity to thrive.
"We look forward to seeing the positive impact this initiative will have on the students and the wider community."
To find out more, please contact us at 0800 612 6008