It's Love Our Colleges week! This year's theme is Get In, Go Further, and to kick off we're shouting about how we work with our local communities, employers, charities, and organisations.
From presentations to masterclasses, project-based learning to work experience placements, courses to challenges, these opportunities enhance our students' learning experience, helping them to learn new skills and grow in confidence. And in turn, it helps to raise awareness, develop talent programmes and enrich our communities.
To celebrate, we've picked out a few of our exciting examples below.
Adopting technology into all aspects of life and learning at college
Lifeskills students help test new campus app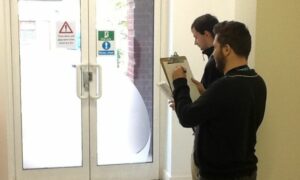 Lifeskills students at Guildford College have been working on an exciting project helping test MazeMap, an indoor navigation app being developed for Guildford College.
More than 25 students took part in the testing. Students have been working in small groups, with support from tutors Jessica Donovan and Iain Charlton. They walked around the campus, marking all points of interest, such as fire exists, to ensure the information available via the interactive map app is accurate.
The Lifeskills team at Guildford was approached by Divya Menon, Group Director of IT, with the opportunity to work together in this project.
This activity helps our Lifeskills students in a number of ways, boosting:
Development of their independence skills (with support where needed)
Growth of their existing strengths, such as attention to detail and ability to follow consistent routines
Students' self-esteem, their enthusiasm and their confidence in their own skills and what they can do.
Inclusivity across the campus, helping bring to the fore the work that our Lifeskills students do (in our Learning companies, post rooms, servicing our printers, etc.)
The team really enjoyed the challenge and have been identifying inconsistencies, such as being sent on the shortest route via a classroom.
Following this week-long test by students, we will be inviting Guildford College staff to try the MazeMap Beta version on campus and to share their feedback. More details will be available very soon via our internal communications.
Launch of Esports programme and brand new facilities at Reading College.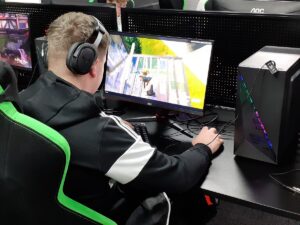 Activate Learning's Reading College is one of the first colleges in the UK to offer an Esports programme and we are very proud to be offering the new Pearson BTEC qualification in collaboration with The British Esports Association. In 2022, the Esports programme will be offered at our Banbury and Bicester, City of Oxford, and Guildford Colleges.
Opening of our new South Central Institute of Technology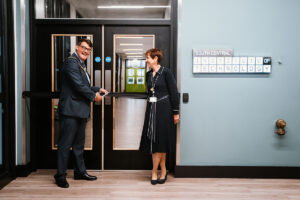 At the end of September, we opened our new South Central Institute of Technology hub at Reading College to train the next generation of digital and technical specialists.
Engaging with the local community
Engaging with local schools
Farnham College's Deputy Head and A Level Geography tutor, James Jagger, recently delivered an exciting taster lecture on Response to natural hazards in the 21st Century to a room full of eager Year 11s at Farnham Heath End School. The session involved analysing which natural hazards presented a risk in the UK and globally and culminated in a simulated real-life earthquake drill!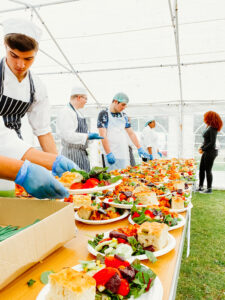 Reading Town Meal 
Professional Culinary Arts students from Reading College cooked up storm at Reading Town Meal. Our Level 1 students cooked a two-course meal using locally donated fruit and vegetables from local growers.
Public services students also got involved in the set up and down of the event and marshalling during the event.
Inspiring young creatives with our National Saturday Clubs
Every year, we welcome 13-16 year olds into our colleges to help them explore and grow their creativity in our National Saturday Clubs.
We currently have four on offer:-
National Film and Media Saturday Club
National Fashion and Business Saturday Club
National Art and Design Saturday Club: Furniture
National Saturday Art and Design Club.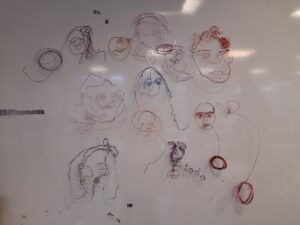 The clubs introduce young people to the basics of creative disciplines, encouraging them to bring their imagination to life and providing them with a range of transferable skills.
This club is a great start of young people's creative journeys, whether they aspire to become an actor, a fashion designer, a furniture maker or much more. This club will open their eyes to the vast opportunities this industry offers.
As well as benefiting from 16 weeks of inspiring classes, club members will enjoy a London Visit, attend a masterclass and exhibit their work at the Summer Show at Somerset House, London.
Partnering with employers and developing new state-of-the-art facilities
Inspiring future talent with BMW 
BMW recently came in and work with two groups of Level 3 Engineers. The aim of the session was for the students to work in teams to plan, build a famous landmark and then present their project back to their peers, staff and BMW. This engagement vital for the students and BMW as it has allowed us to assess the future talent, inspire the students and have a positive impact. Eight out of 33 students have been highlighted by BMW with three of them already showing an interest to join BMW in just under 1-2 years' time. Will be working with BMW to create a future talent programme for those who have shown an interest.
Oxford students perform a Flashmob for the general public at Westgate Shopping Centre 
City of Oxford students shared their talents with the public recently and performed a flashmob performance to the general public at Westgate Shopping Centre, in front of John Lewis.
Treading the boards with Reading Rep Theatre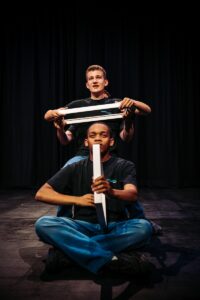 Reading Rep Theatre opened their new state-of-the-art performance space in September. The new theatre with 180 seats, opened after £1 million fundraising drive, which has taken two years to complete.
Reading Rep is Reading's resident professional theatre, which combines high-class productions with ground-breaking education and community engagement. The company helps transform Reading and the surrounding areas' cultural landscape.
Reading Rep produces diverse new voices on the stage, nurturing participants in the classroom and reaching out to the local community. In working alongside the most disadvantaged and marginalised communities in Reading, they continue to promote diversity, inclusion and accessibility in the arts.
Students studying our performing arts programmes at Reading College will benefit from our partnership with Reading Rep Theatre by taking part in the upcoming performances of A Christmas Carol and A Midsummer Night's Dream, where they will be able to audition for the company and leading professional roles. Throughout the whole 2021-22 season, students will also be involved in work experience placements as stewards and other roles.
Inviting employers in to inspire our students 
A big thank you to Steve from Zappas who visited our Reading College salon to speak to students.
Steve is a successful salon owner with over 30 years of experience. The Zappers brand is bigger than ever with six salons, two training academies and an award-winning team.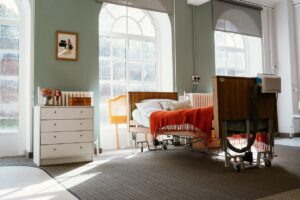 Developing a Care Skills Training Centre 
We will be launching our new Care Skills training centre at Guildford College which has been designed in partnership with Royal Surrey County Hospital NHS Foundation Trust, Health education England and Skills for Care.
The new industry-standard facilities will be used by students studying Health and Social Care and Access to Higher Education programmes.
Supporting the military
Activate Learning are proud to support the Armed Forces and have been successful in gaining the bronze status in the Armed Forces Covenant.
Popular media attraction 
Merrist Wood College has been featured time and time again on various television programmes such as Alan Titchmarsh's Love Your Weekend and Spring into Summer.
Farnham College has recently provided the location for the filming of a new BBC prime time show with 15 of our students featured as extras.
Raising awareness and sharing of resources about social injustices and mental health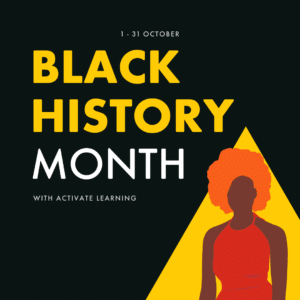 Black History Month training and resources
At Activate Learning, staff are invited to take part in some unconscious bias training for Black History Month. We've collected some resources for the awareness month and have made these accessible for all students through our virtual learning platform Activate Learning Online, with each week focusing on different themes.
Raising awareness about wellbeing and mental health 
A big thank you to Compass Recovery College who are doing a project-based learning wellbeing course with our Level 2 Early Years students.
The course will help to improve our students' awareness of wellbeing and mental health, helping them to become better practitioners.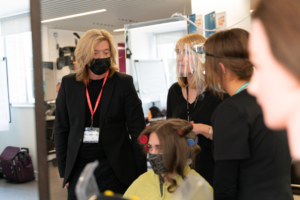 Cut it Out 
Earlier this year, we teamed up with Thames Valley Police and celebrity hairdresser Nicky Clarke to launch Cut It Out, which trains our hairdressing and beauty therapy students on how to spot the signs of domestic abuse.
Raising awareness about the discrimination in hairdressing around Afro-Caribbean hair
A big thank you to former student and stylist and salon owner Rita Thompson who inspired our Guildford College hairdressing students by sharing her journey from student to salon owner.
Rita also helped to raise awareness around the discrimination in hairdressing around Afro-Caribbean hair, as learning about how to cut and style afro and textured hair will soon become a mandatory requirement of the hairdressing qualification. Since leaving college, she has trained herself in Afro-Caribbean hair.
Inviting former students back to inspire new students
A couple weeks ago, we welcomed former Access to HE student Lucy, to speak to our Access to HE: Nursing and Health Professional students.
Lucy shared why she did an access course, how it helped her, what uni was like, what it was to work during the pandemic and much more!