We'd like to thank all our students for your hard work and parents for your support this term as we start to wind down next week ahead of the Christmas break.
The last day of face-to-face learning on campus will be on the 17 December. You will be set project work or online learning on Friday 18 December, so you will not need to come into college on this day unless you have an examination.
The Activate Learning Christmas Service
We'd like to ask all students to take a moment to enjoy the Activate Learning Christmas Service.
This has been organised by Miles, Student Engagement Advisor in Oxfordshire who has worked alongside Activate Learning's Minister, Michael Penny.
Activities on campus
We'd like to thank our Student Engagement Team, who have worked hard this festive season to bring some much needed Christmas cheer.
There is currently a 'guess the number of sweets in a jar' activity at each campus, if you guess the correct number you win the sweets!
To get involved at:
Reading College, please see Candace in the Advice and Admissions Centre
Banbury and Bicester College, Bracknell and Wokingham College, Farnham College and City of Oxford College City Centre Campus and Technology Campus the jar is at Reception
Guildford College and Merrist Wood College the jars are in the Learning Resource Centres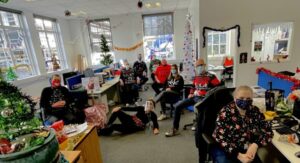 Today, we celebrated Christmas Jumper Day where all donations made will go to Save the Children. We'll let you know the total money we've raised on social media next week.
Keeping safe over the festive break
Although Wellness Week officially ends today, we'd like to remind students of the importance of keeping safe over Christmas and to continue to focus on their wellbeing. During Wellness Week:
Students and staff alike enjoyed fresh fruit each day across campus
Wallet cards were given out with health tips and safety information
Information regarding drugs and alcohol was up around college and on ALO.
Mental wellbeing and tips on how to cope and use mindfulness on ALO
What if I feel unwell over Christmas?
If you become symptomatic or test positive for Covid-19 on or before 24 December, please let us know by calling on 01865 550 401 or emailing safe@activatelearning.ac.uk.
If you become symptomatic or test positive after 24 December, please email safe@activatelearning.ac.uk.
If you are self-isolating at the start of the new term, whether because you have developed symptoms, tested positive or been in close contact with someone who has tested positive, please do not attend college until you have finished self-isolating.
If you're in doubt, please email safe@activatelearning.ac.uk or call 01865 550 401.
We look forward to welcoming you back to college on Tuesday 5 January for the new term where your normal college timetable will resume.
We'd like to remind students to stay vigilant and safe. We hope you have a restful break and a lovely Christmas. Be sure to share your festive pictures via #ChristmasatAL on social media.
Happy holidays,
Activate Learning